The Best Plastic Surgeon in Lahore, Karachi, Islamabad, Pakistan.
Prof. Dr. Azim Jahangir Khan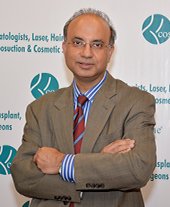 M.B.B.S., M.D. (U.S.A), F.A.A.D. (U.S.A), F.A.A.C.S. (U.S.A), F.A.S.D.S. (U.S.A)
F.A.S.L.M.S. (U.S.A) F.A.S.H.R.S. (U.S.A) F.A.S.L.S. (U.S.A) M.A.C.P. (U.S.A)

Diplomate, American Board of Dermatology
Diplomate, American Board of Internal Medicine
Fellow, American Academy of Cosmetic Surgery
Fellow, American Society for Dermatologic Surgery
Fellow, American Society for Liposuction Surgery
Fellow, American Society for Hair Restoration Surgery
Fellow, International Society for Hair Restoration Surgery
Fellow, American Society for Laser Medicine and Surgery

Assistant Clinical Professor of Dermatology
The State University of New York (SUNY) at Stony Brook, U.S.A

Professor of Dermatology and Dermatologic Surgery
Allama Iqbal Medical College and Jinnah Hospital, Lahore.
Its your face, its your body, its your health and well-being.

At Cosmetique®, you can literally trust your skin care and appearance enhancement to the Professors who teach other doctors the science of skin, hair and nails, and how to perform cosmetic surgery.

Prof. Dr. Azim Jahangir Khan is considered to be the best dermatologist in Lahore, Islamabad & Karachi Pakistan. He has pioneered and perfected procedures that guard your health and help your outward appearance match your inner beauty. Whether you are in need of a rejuvenating facial mini lift, liposuction or relief from unwanted wrinkles, our doctors are ready to serve your needs.

Considered to be the top skin specialist in Lahore, Pakistan, Prof. Dr. Azim is the only American trained skin specialist, laser & cosmetic surgeon in all of South Asia with the unusual trio of accredited training in Internal Medicine, Dermatology and Cosmetic Surgery from the U.S., and is Board Certified by both American Board of Internal Medicine as well as American Board of Dermatology. He is formally trained in cosmetic surgery fellowship-training program accredited by the American Academy of Cosmetic Surgery. His mentors and teachers include some of the best doctors in the world, including Dr. Branden Riley, Dr. Richard A. Clark and well renowned cosmetic surgeons Dr. Emil Bisaccia and Dr. Dwight Scarborough. All of these doctors are the authors of the textbooks and Prof. Khan himself is editing a textbook of Wound Care with Dr. Richard Clark. Dr. Khan has published extensively in the basic science as well as in the clinical science peer-reviewed journals of international repute and has authored chapters in textbooks taught in universities and medical colleges all over the world. Prior to establishing Cosmetique, Dr. Azim spent well over 15 years in the United States in training, practice and teaching the art and science of skin, hair and nail diseases as well as laser and cosmetic surgery. His clinical expertise includes general dermatology, hair transplant, liposuction, face lift with smallest possible surgery, otoplasty (ear beautifying surgery), blepharoplasty (eye beatifying surgery), and lasers for hair removal, birthmark removal and rejuvenation to name a few. He is, Alhamdulillah, one of the most qualified doctors in these areas, and is well known internationally. He is licensed to practice in the states of New York, New Jersey, Ohio and Illinois in the United States and in Pakistan. Dr. Khan has been featured five years in a row in Marquis' Whos Who in America 2005 to 2010. Marquis Whos Who contains detailed biographical information on the most outstanding and accomplished individuals in the United States.

The reason why. Dr. Azim is considered to be the best skin specialist dermatologist in Lahore, Pakistan is his impeccable educational portfolio. He is fellowship trained in wound healing too, from Northwestern University School of Medicine in Chicago, USA. Northwestern University is considered as one of the best universities in the United States. He trained In Internal Medicine from Cook County Hospital, Chicago, IL. During the stay at Cook County Hospital he was elected as the President of House Staff Association (HSA) that represents the largest physician union in the United States. He has also served as the Vice President of National Union of Hospital and Health Care Employees (NUHHCE) of United States. He is the first foreign doctor ever elected to these prestigious organizations in America. Later, he completed a residency in Dermatology at the State University of New York at Stony Brook, NY., and continued to serve as Assistant Professor of Clinical Dermatology at Stony Brook. Finally, he completed a fellowship in Dermatologic Cosmetic Surgery approved by the American Academy of Cosmetic Surgery with Dr. Emil Bisaccia, Professor of Dermatology & Dermatologic Cosmetic Surgery at Columbia University in New York City. Dr. Azim is a Fellow of the American Academy for Liposuction Surgery, American Society for Dermatologic Surgery and American Society for Hair Restoration Surgery to name a few.

He is one of the very few dermatologic surgeons in the world with competence in a very sophisticated technique for the treatment of vitiligo called as Melanocyte Transplant Surgery. His basic science work has focused on the fibroblast migration in the wound healing and the lab-grown artificial skin.

Dr. Khan primarily sees patients at our well known and state-of-the-art practice, Cosmetique in Lahore. He is the Professor of Dermatology and Dermatologic Surgery at Allama Iqbal Medical College and Jinnah Hospital, Lahore, and an Assistant Clinical Professor at the State University of New York at Stony Brook, U.S.A. He teaches medical students and young doctors as well as maintains his active involvement in clinical and basic science research. He has also served as the president of MTA (Medical Teacher's Association ) of Allama Iqbal Medical College, Lahore, Pakistan.

Being the best hair transplant surgeon in Lahore, Pakistan, he has to shoulder the responsibility of sharing his knowledge with the junior doctors and other colleagues. Thus he regularly shares his expertise in cosmetic surgery and hair transplant surgery including latest FUE technique, hybrid hair transplant and the use of PRP in hair transplant with his peers by lecturing at national and international conferences and seminars. Considered as the best cosmetic surgeon in Lahore, Islamabad & Karachi area he is frequently approached by the news media as an expert and has been referenced in national and international newspapers, magazines and television.



Dr.Muhammad Sheraz Raza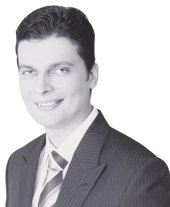 Dr.Muhammad Sheraz Raza Plastic & Cosmetic Surgery Dr.Muhammad Sheraz Raza Neurology - MBBS, MRCSEdin, FCPS Plastic Surgery, Fellowship In Hand & Microsurgery NUH Singapore
Dr. Sheraz is a Cosmetic and Plastic Surgeon par excellence. He takes pride in his work and maintains very high standards in the services he provides in both Cosmetic and Reconstructive Plastic Surgery. He is very passionate about his craft as a plastic surgeon and thinks of his surgery as an art rather than science.
Education
Dr. Sheraz attended Crescent Model Higher Secondary School, Lahore for 10 years, from 1986 to 1996, completing his primary and secondary schooling. Crescent being one of the top schools in the province. He then joined the prestigious institute of Government College Lahore in 1997, home to greatest of scholars, politicians and socialites. Dr. Sheraz qualified through pre-medical Tests and entered the central medical education program of Punjab and joined Punjab Medical College, Faisalabad in 1999. He qualified with honours in all professional examinations and exited the medical school in 2004.
Training
Immediately after exiting from medical school Dr. Sheraz went to USA and joined internship and later research program in the all prestigious institute of Mayo Clinic in Rochester, Minnesota. He returned to Pakistan and did his House Job in Mayo Hospital, Lahore, the biggest tertiary care hospital in the region. After housemanship Dr. Sheraz went to UK and completed his MRCS( Memebership of Royal College of Surgeons) from Edinburgh. He came back to Pakistan and persued FCPS( Fellowship of College of Physicians & Surgeons of Pakistan ). Did his initial 2 years General Surgery Training in Shaikh Zayed, PGMI, Lahore. Joined Plastic Surgery in Mayo Hospital, Lahore in 2008. Dr. Sheraz completed his training in Plastic Surgery and qualified for the exit exam in Plastic Surgery with Distinction in 2012. during training he was regarded as one of the brightest trainee and appreciated and acknowledged by whole Plastic Surgery Faculty both national and international. He was a very familiar face in most national and international meetings. During his training Dr. Sheraz developed special interest in Cosmetic Surgery and Hand & Microsurgery. He attended a one year fellowship program in Hand and Microsurgery in National University Hospital, Singapore from 2013 to 2014. He was liked by all peers and well regarded by all major hand surgeons from around the world with whom he frequently encountered in conferences all around the world. After the formal training he frequented a number of international travelling fellowships in Cosmetic Surgery as well as Reconstructive & Microsurgery. He is also a familiar face in international symposia presenting his latest techniques as well as learning to refine his skills in ever progressing and evolving field of Plastic Surgery.
Research & Publications
Dr. Sheraz has a special place in his heart for research and he has designated a good amount of his time to his research projects, which are quite a few in number. He has a number of publications in peer reviewed journals on the topics of skin graft donor site management, tendon repair techniques in upper limb, modifications of flaps for soft tissue defects coverage, nerve repair techniques, options of burn management, amongst so many others. Dr. Sheraz takes out special time to travel around the world to discuss his own research and listen to other people ideas to expand his vision at every opportunity. He is currently involved in one of the bigger trials on fat grafting and stem cells procurement and their molecular effects in Cosmetic procedures and various kind of neurological and tissue degenerative disorders.
Innovations
Dr. Sheraz proposed a modification in tendon repair technique by Lim & Tsai involving looped sutures, in American Journal Of Hand Surgery . This modification received wide acceptance and considerably reduced the price of procedure. He has also devised a modification of Sural Artery Flap for heel defects that has considerably improved outcomes in hands of most reconstructive surgeons. Dr. Sheraz has also proposed a new technique of nerve repair esp in Brachial Plexus injuries which is supposed to improve results in nerve injury patients.
Sports & Hobbies
Dr. Sheraz has been an out and out sportsman in his school and college days. He captained Cricket, Basketball and Volleyball teams in both school, high school and college days winning cups and medals on the way. His hobbies mainly involve collecting watches for which he has a pretty impressively large collection. He likes watching movies in his spare time and is usually quite up to date about the latest raves in movie world.
Dr. Abrar Pirzada
Dr. Ibrar Pirzada Plastic & Cosmetic Surgery Dr. Abrar Ul-Hassan Pirzada M.B.B.S. (Pak), F.R.C.S. (U.K.), F.A.C.S. (U.S.A.)

Plastic, Reconstructive & Cosmetic Surgeon

Plastic/Reconstructive & Hand Surgery Fellowship Lincoln Hospital (Cornell University Affiliate), New York, NY F.R.C.S. (Fellow of Royal College of Surgeons) (Ire) F.A.C.S. (Fellow, American College of Surgeons)

A highly trained, experienced Plastic, Reconstructive, and Cosmetic Surgeon with over 25 years of North American as well as international experience in Cosmetic, Plastic, and Reconstructive Surgery, Dr. Abrar Pirzada is an integral part of COSMETIQUE team. He is a highly organized, efficient, creative, resourceful, and skilled surgeon who has worked with residents and fellows and is an experienced teacher in an academic medical center. With special expertise and interest in reconstruction of victims of facial burns, he is able to easily provide across the spectrum of services from simple cosmetic procedures to complex multidisciplinary team reconstruction cases seen in tertiary care centers.

Dr. Pirzada worked as a Consultant Plastic & Cosmetic Surgeon at King Hamad University Hospital in Bahrain prior to joining the COSMETIQUE team. Currently he is teaching as head of the Department of Plastic Surgery at Sharif Medical and Dental College and Hospital, Lahore, Pakistan, in the mornings. He has worked as a Consultant, Plastic & Cosmetic Surgeon at various hospitals in Lahore, including Fatima Memorial Medical and Dental College and Shalamar Hospital, Lahore, Pakistan.

He has performed facial reconstruction of acid burn victims with different NGOs in Pakistan. He has worked as Emergency Room Surgery Consultant, at Lincoln Hospital, The Bronx, New York, New and as Assistant Surgeon at Raritan Bay Medical Center, Perth Amboy, New Jersey, U.S.A.

In the areas of Reconstructive Plastic Surgery Dr. Pirzada is involved in facial reconstruction of acid burn/stove burn patients for which he uses tissue expanders, local pedicle flaps and distal flaps. He also performs reconstructive coverage of hand and rest of body which may have been injured by trauma or burns via flaps and skin grafting and skin expanders.




Areas of interest:




Face and Necklift, Blepharoplasty &, Brow Lift Tummy Tuck, Liposuction & Body Lipo-sculpture Nose Reshaping Breast Surgery especially Breast Augmentation, Mastopexy & Breast Reduction Hair Transplant Dr. Pirzada uses single follicle hair transplant technique and has trained with Dr. Beehner who is considered as one of the pioneers of hair transplant. Botox & Fillers, Laser Hair Removal, Laser Facial skin rejuvenation Postgraduate Training


Plastic/Reconstructive and Hand Surgery Fellowship



July 1, 1999-June 30, 2001, Lincoln Hospital (Cornell University Affiliate), New York, New York Residency, General Surgery June 1, 1994-June 30, 1995, Cabrini Medical Center, New York, New York Internship & Residency, General Surgery June 1, 1992-June 30, 1994, Maimonides Medical Center, New York, New York Research Fellow, Molecular Immuno-histochemistry September 1991-June 1992, Memorial Sloan Kettering Cancer Center, New York, New York House Physician, Surgery July 1, 1988-December 31, 1988, Rawalpindi General Hospital, Rawalpindi, Pakistan House Physician, Medicine January 1, 1988-June 30, 1988, Holy Family Hospital, Rawalpindi, Pakistan Education

Bachelor of Medicine and Surgery (M.B.B.S.) October 1987, Rawalpindi Medical College, Punjab University, Lahore, Pakistan Higher Secondary School Certification April 1981, Aitchison College, Lahore, Pakistan Licensures

New York State License 1997 (Active) New Jersey State License 1997 Bahrain Medical Licensure 2014 (Active) Licensed Physician in Pakistan (Active)


Publications
Pirzada, Abar. Facial Reconstruction of Burn Patients with Tissue Expanders in Comparison to Skin Grafting. Accepted for publication, Annual Journal, Sharif Medical and Dental College, 2015 Pirzada, Abar. Use of alar cartilage tip graft in rhinoplasty. Accepted for publication, Annual Journal, Sharif Medical and Dental College, 2015 Languages English, Urdu Honors & Awards Solo Exhibition at Pakistan Embassy, Washington D.C., U.S.A., April, 2004 Art Exhibition at APPNA Convention Florida, U.S.A. July 2003 Supported numerous charitable organizations through art exhibits including a solo exhibition in New York at the Pakistan Consulate in 1999 and Lincoln Center for Performing Arts, New York in 1998 Best Leaving Student, 1981 Aitchison College Best Artist Award, 1980 Aitchison College.



Related Searches
best dermatologist in pakistan
top dermatologist in lahore
top dermatologist in islamabad
best dermatologist in karachi for acne
best dermatologist for hair in karachi
dermatologist in karachi
dermatologist in aga khan hospital karachi
female dermatologist in lahore
female skin specialist in lahore
skin clinic lahore
skin specialist in lahore johar town
skin specialist in jinnah hospital lahore
skin laser & liposuction centre lahore, pakistan